By Barefoot Marketing
Jul 27, 2017 - 3:42:05 PM
Email this article
Mobile friendly page
20158058_10154662310701039_7006327459853612238_o.jpg
This year's Miss Bahamas Contestants don the signature color of the Sands Pink Radler and pose with along with a happy patron at Jimmy's Wines & Spirits this past Friday. (Photo by BBB)
Nassau, Bahamas – Widely known for its crisp, refreshing grapefruit flavor and its pretty pink hue, the Sands Pink Radler embodies the essence of a Bahamian summer and is the perfect accessory to complement Bahamian beauty; making it an equally perfect partner for this year's Miss World Bahamas competition. In the spirit and celebration of both those ideals, Bahamian Brewery & Beverage Co. Ltd, The Bahamas' truly Bahamian beer company and producers of the Sands Pink Radler, was proud to host the nine ladies vying for the title of Miss World Bahamas 2017 to a special meet and greet at Jimmy's Wines & Spirit's Nassau Street Location on July 21.
"The Sands Pink Radler is one of our most popular brands. It's a fun fruity flavor that really personifies the beauty and spirit of the Bahamian summer" explained Wellington Seymour, BBB Executive Sales and Marketing Manager.
On Friday afternoon visitors to the Jimmy's location were treated to special guest appearances by the nine would-be queens, who posed for photographs with fans and friends.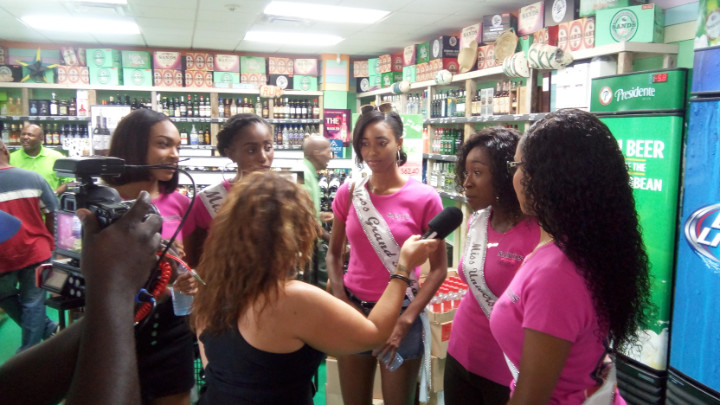 This year's contestants wowed listening audiences during a live remote with 100 Jamz radio host JJ during a meet & greet at Jimmy's Wines & Spirits' Nassau Street location. (Photo by BBB)
"As a major sponsor of this year's pageant, Sands Pink Radler has supported these beautiful young ladies from the beginning of their journey to crown, so it was really great to see them all in a more relaxed setting getting to know the people who are supporting them" Seymour noted.
Not only was the event an opportunity to rub shoulders with this year's contestants but customers visiting the Nassau Street Store were also given the chance to win tickets to this year's National Costume Competition which effortlessly strung together the use of traditional Bahamian materials, vibrant colors, feathers and jewels to highlight the varied nuances of Bahamian cultural expression.
The nine queens will wow spectators at the finale set for July 30th at the Baha Mar convention center. Tickets are available at Airbrush Junkies in the Mall at Marathon, or from any Miss Bahamas contestants. The public are invited to be a judge in the pageant. You can download the Miss Bahamas app and vote for your favorite contestant.
"Each of these ladies brings something special, unique and something Truly Bahamian to the competition. We have been so pleased with level of poise and grace they have shown so far and we really believe that any one of them would be an amazing international ambassador and represent the Bahamas in the best possible way."
http://www.thebahamasweekly.com/publish/arts-and-culture/Sands_Pink_Radler_Hosts_Miss_Bahamas_Hopefuls_Ahead_of_National_Costume_Competition54944.shtml
Nenhum comentário postado para este post.